Founder-President's Message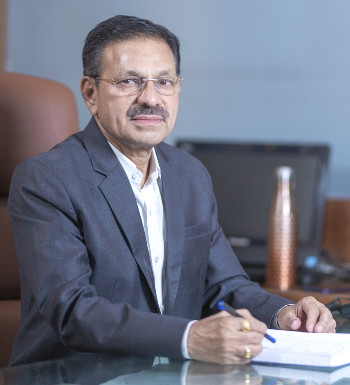 Prof. Dasharath Sagare
Founder-President,YSPM,Satara
Prof. Sagare was born in Pangaon, Taluka Barshi, District-Solapur in a very ordinary family. Sir's mother passed away when he was very small. After his mother`s death his father, grand father, sister, brother and aunt took care of him. His aunt & sister always used to say, "Tuzi Aai Angathe bahaddur hoti, ti shik shik mhanun geli, pan bhavand shikali nahi, nidan tu tari shik." Sir was inspired by these words & decided to pursue education.
Sir completed H.S.C. in Pangaon and B.A. in Barshi. After this Sir completed M.A. through "Earn & Learn" scheme from Shivaji University, Kolhapur. When he completed M.A. he got appointment letter for the post of lecturer from 'Maharshi Karve Stree Shikshan Sanstha, Pune' & thus Sir started his teaching career in Kanyashala Satara. Latter on Sir completed B. P. Ed in Barshi.
In 1997-98 while going to Pune he accidently met Dr. Patangrao Kadam's youngest brother Mr. Subrao Kadam. This meeting was converted into friendship very soon. With Mr. Kadam`s advice & inspiration of Bharati Vidyapeeth Pune as well as Karmveer Bhaurao Patil, Maharshi Karve & Dr. Mamasaheb Jagadale`s inspiring thoughts, Sir was motivated and decided to establish educational institutes.
Sir has over 35 years of experience in educational field. He realized the importance of education in every individual`s life. In 2008 on the occasion of 'Dashara' Sir established 'Yashoda Shikshan Sanstha' (YSS) in Yashoda Nagar, Godoli, Satara. As Sir`s idol is his mother he gave her name to the institution.
YSS started with Nursery & First standard in both Marathi & English medium. Today YSS has five schools from standard first to tenth, three junior colleges of Arts, Commerce & Science under its umbrella.
Sir started the "Dattak Palak" scheme for the economically under privileged students. Today more than 50 students are receiving the benefit of this scheme.
In a very short span, Sir has achieved the aim of establishing education institution from nursery to tenth standard & junior colleges. After this, Sir wished to start Technical institutions. With this goal in mind Sir started 'Yashoda Technical Campus' (YTC) in 2011 at Wadhe Phata, Satara. YTC has faculty of Engineering (Mechanical, Computer, Electrical, E&TC, Civil branches), Pharmacy (D. Pharm, B. Pharm & M. Pharm (Pharmaceutics & Pharmacology), M.B.A. & M.C.A. In India's history, YTC is the first technical campus that received the approval of AICTE & DTE for starting eleven courses at a time.
During his initial phase of establishing YTC, Sir`s wife and Secretary of YSPM, Mrs. Sadhanatai Sagare always stood behind him as his backbone.
Recently AICTE has approved ME (Mechanical & Computer courses) & M Pharm (Quality Assurance).
In future Sir has planned to establish a Polytechnic & an English medium Public school affiliated to CBSE near YTC Campus.
Because of his way of looking towards life, motivation, positive attitude, passion & patience, a lot of people get attracted towards him.
With the support his well wishers & friends, Sir is proceeding towards his goal.